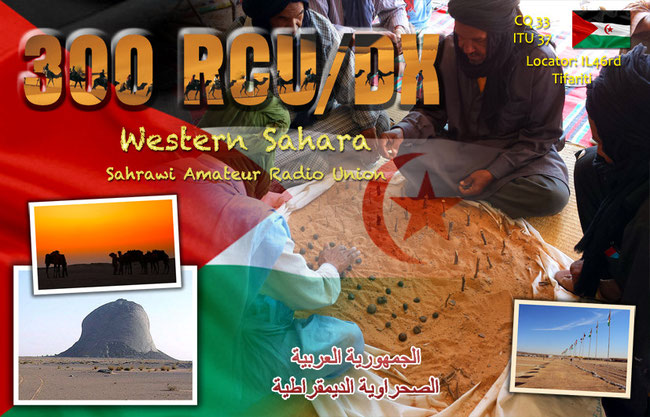 History
Thanks to Zulu Bravo - International DX Group, in march 1996, the first station that it emitted from the Western Sahara (300) with the permission of the SADR authorities was put on the air.
Roberto - 30ZB071, operated with the code 300ZB / 20A, recalling the twentieth anniversary of the founding of SADR. For several days since the division 300, making several thousand contacts with countries of the five continents.
Roberto operated with a TS680 and a vertical antenna.
The Country
The Saharan Arab Democratic Republic or RASD - formerly Spanish Western Sahara - was formally proclaimed on February 27, 1976 in Bir Lehlu.
To date, the RASD has been reconized by 80 countries and it the 51st member of the Organization of African Unite (OUA).
The contry is bordered on the north by Morocco, on the south and sotheast by Mauritania and on the east by Algeria.
The physical characters of the area has many faces, ranging from vast stretches of desert to greeen oases fron worthlees sand to valuable phosphate deposits.
300RCU/dx
300RCU / DX is an activation sponsored by Radio Club Untzueta and thanks to the collaboration of Jon 30RCU002 and other colleagues who are passionate about DX activity on the radio.
The 300RCU / DX station is operated by Azman, and if his obligations allow it, he will be in the air as long as possible to provide this 300 country to anyone in need.
The activity will start from the second week of May 2014.
Man operates with a 80-watt computer and a CUCO dipole antenna.
Activation frequencies: 27,570 - 27,580 - 27,590 kHz